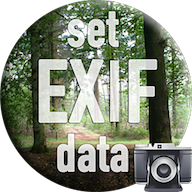 SetEXIFData
Modify EXIF data in images and movies
€ 10,70 - Click here to purchase a serial number for SetEXIFData
Our order process is conducted by our online reseller Paddle.com .
Paddle.com is the Merchant of Record for all these orders.
Paddle provides all customer service inquiries and handles returns.
or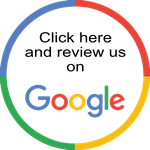 What SetEXIFData offers is: renaming photos or videos from EXIF dates, get EXIF dates/times from the file name of the photo or video, or from Google JSON-export, increment dates/times and sequence numbers, geotag photos and videos and store the found address, add camera info, add or replace keywords, modify the Finder's Date created or Date modified, save artist, keywords, geo-data and camera data as presets, and much more...
or
remove EXIF/ IPTC / XMP tags
or
remove all removable tags.
Tweet
SetEXIFData uses the excellent
ExifTool
, which you should install first (I have included it in the download for your convenience). SetEXIFData uses
exiftool
to write most wanted EXIF data into an
image
or
movie container
(mov, m4v, mp4) - whatever ExifTool supports.
SetEXIFData uses
libraw
, to extract a thumbnail for in the Preview-window.
libraw
should be installed via
homebrew
:
$ brew install libraw
.
As long as Apple supports Intel-code via Rosetta on their M-processors, SetEXIFData can als use
dcraw
(it is also included in the download, for your convenience) to read and display the thumbnail from RAW images. SetEXIFData looks first if finds
libraw
, if not, it looks for
dcraw
.
System Requirements
SetEXIFData v10 runs on macOS 10.12 or higher, on 64-bit Intel and M (ARM) Macs.
Lower macOS versions may work, however we don't support these macOS versions.
Note
: If setting Finder dates does not work, install/update the Xcode Developer Tools by issuing the following command in Terminal :
xcode-select --install
.
Note
: Open System Preferences. Go to the
Security & Privacy
tab. Click on the lock and enter your password so you can make changes. Change the setting for '
Allow apps downloaded from
' into '
App Store and identified developers
'.
Installing SetEXIFData
The .dmg that you download contains all the instructions to install SetEXIFData.
Languages / Talen / Sprachen
/ Idiomas / Lingue / Langues

As of v10.4, SetEXIFData is localised for the mentioned languages, with English as the default language.
If you see wrongly translated words, from English into one of the languages, please let me know.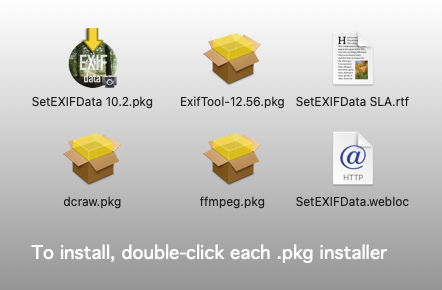 Install dcraw by right-click and then choose 'Open', because it is not signed. The same goes probably for the ffmpeg installer.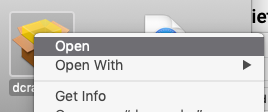 When you start SetEXIFData for the first time, you might be asked to allow 'System Events' and access to your Contacts. Contacts are used to be able to quickly select an address to search for in the Geotag window. Please do allow it: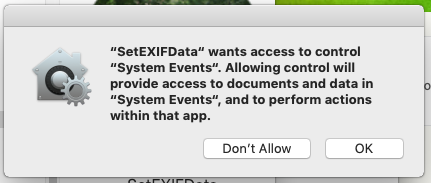 If you do not allow 'System Events', Notifications might not work, and you might not be able to modify images inside system-controlled folders. If you want to allow this later, you have to go into System Preferences > Security & Privacy and add SetEXIFData where needed.
Registration
As of v10.0, SetEXIFData is paid software
. You can buy a serial number via the button above and below.
If you have donated for SetEXIFData 9 after October 2022, please e-mail me the email address you used + serial number, and I will email you a new serial number for version 10.

If you have received your serial number, enter the email address you used for the purchase and the serial number in the appropriate fields at the bottom of the 'About…'-window. Simply closing this window will save your registration.
In the 'About...' window you can see the number of registrations left. Initially, you have a maximum of 3 activations, i.e. 3 different Macs. Contact me if you need more.
Note
:
the
unregistered
version does nothing to your images or movie files.
You can try SetEXIFData as if it were for real.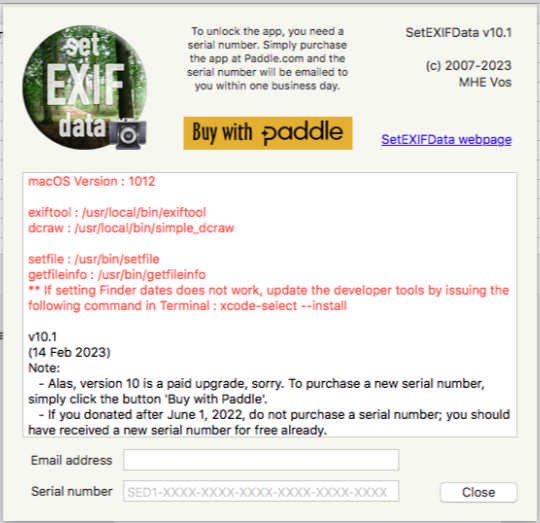 'About…'-window when unregistered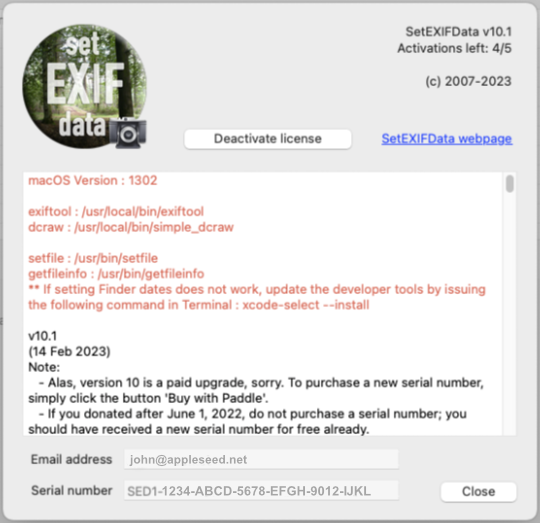 'About…'-window when registered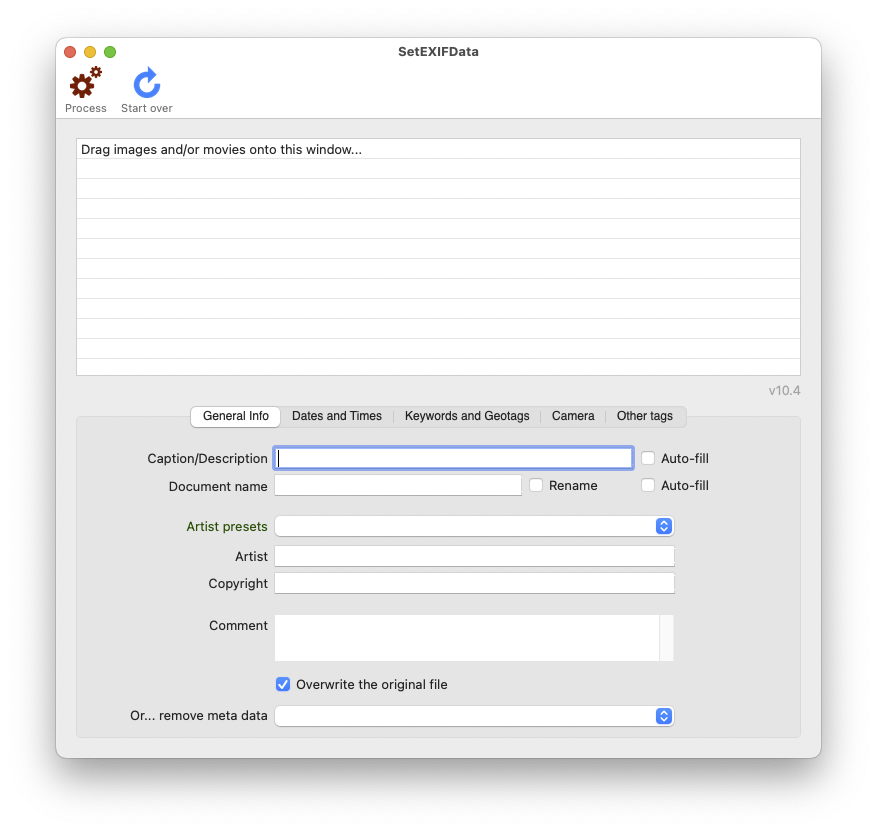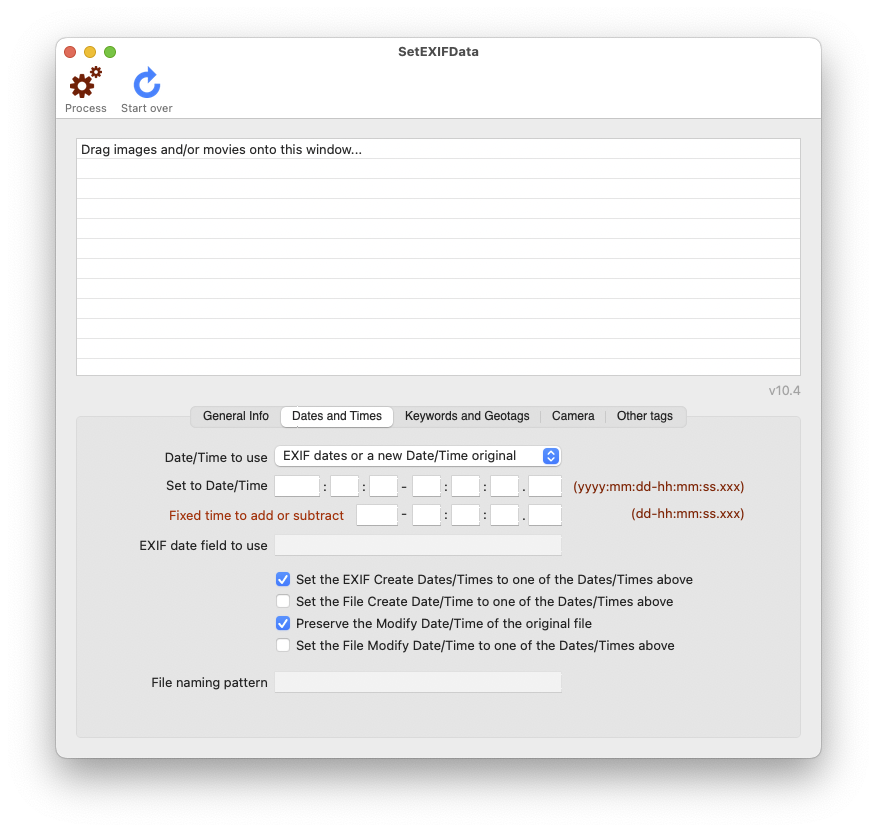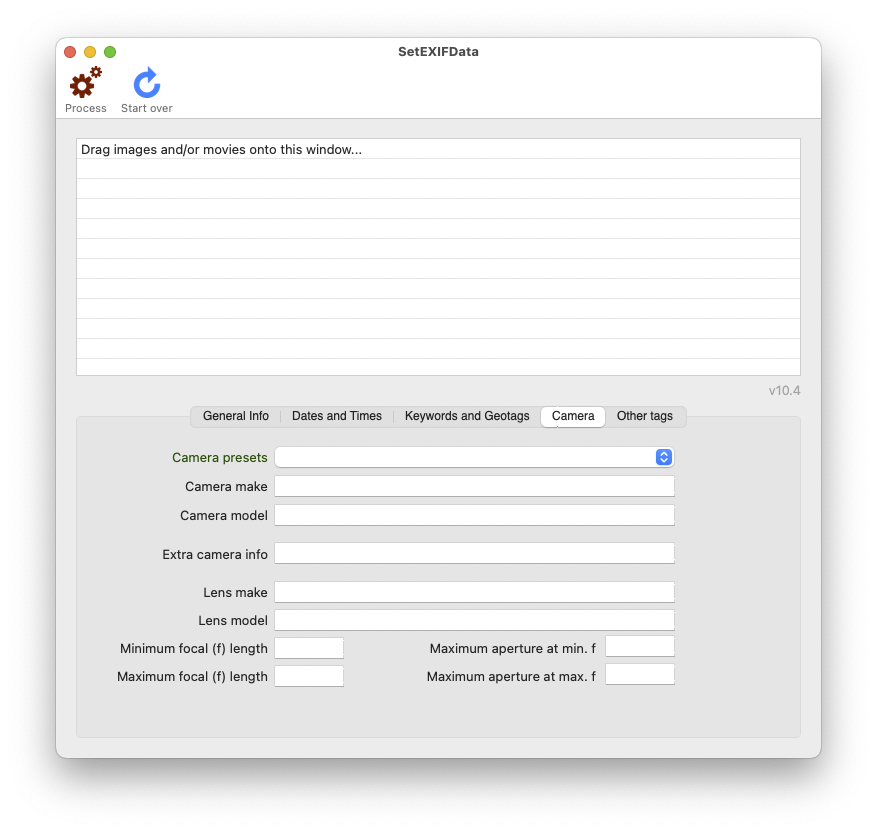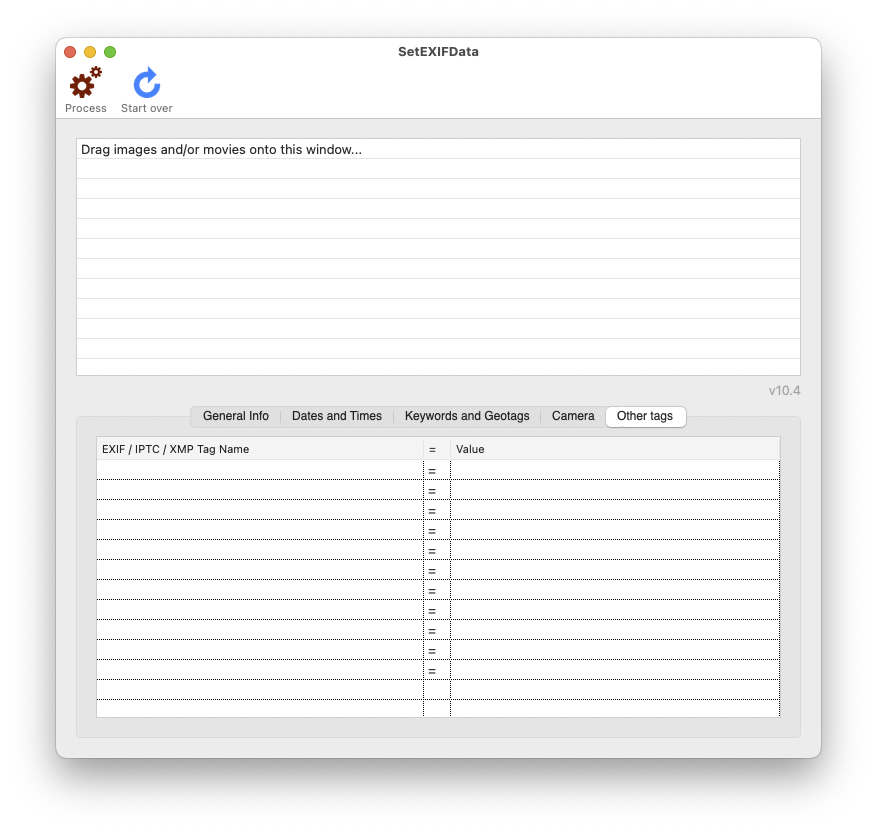 You can create presets for Artist, Keywords, Addresses and Camera settings. A preset is created by entering data first and then clicking on the popup menu, which you see above the Artist, Addresses, Keywords, Geodata and Camera fields.
Choose the 'Save XXX as preset...' menu item and you will presented a dialog window to give the preset a name and when you click OK, the current data is saved as a preset. The popup menus can look like in these examples: